On April 20, 2015 Fairfax reported that CEO David Matthews had set the club  the ambitious goal of having 10,000 Canberra-based members by 2018, which would "put the AFL club on a par with the Canberra Raiders and ACT Brumbies."
On April 8, 2016 Fairfax newspapers reported that 36 per cent of Greater Western Sydney members say Giants not their No.1 team.
The survey (with 600 responses from the Giants' membership) also reported that
Of this group, 10 per cent said they have switched from cross-town rival the Swans while another 5 per cent have left other clubs.
Four of the Giants' five strongest regions are in the club's so-called heartland in western Sydney
45 per cent of respondents said they or their parents did not follow the code before the Giants' arrival
52 per cent of their members have never played the game at any level.
On April 27, 2016 Fairfax put the Canberra membership at "more than 3,000"
Club Chairman, Tony Shephard told Fairfax
""We want to continue to build our fan base and membership. By 2018, when we are hopefully contending for a premiership, we want to have 20,000 members and average crowds of 20,000 (at Spotless) and 10,000 (Canberra). We are under no illusions that these are ambitious goals that will require a renewed commitment … our purpose is clear," he said. The average attendance at Spotless Stadium this season is 12,844, up from last year's 10,900."
In 2017, Giants twitter stated that they had reached 15,706 GIANTS 2017 Members, saying that it was an 82 per cent increase on the same time in 2016. In response to queries, this figure included AFL Womens team members and 3,356 Canberra members.
In May 2017, GWS announced it had reached 20,000 members and sent the following infographic to members.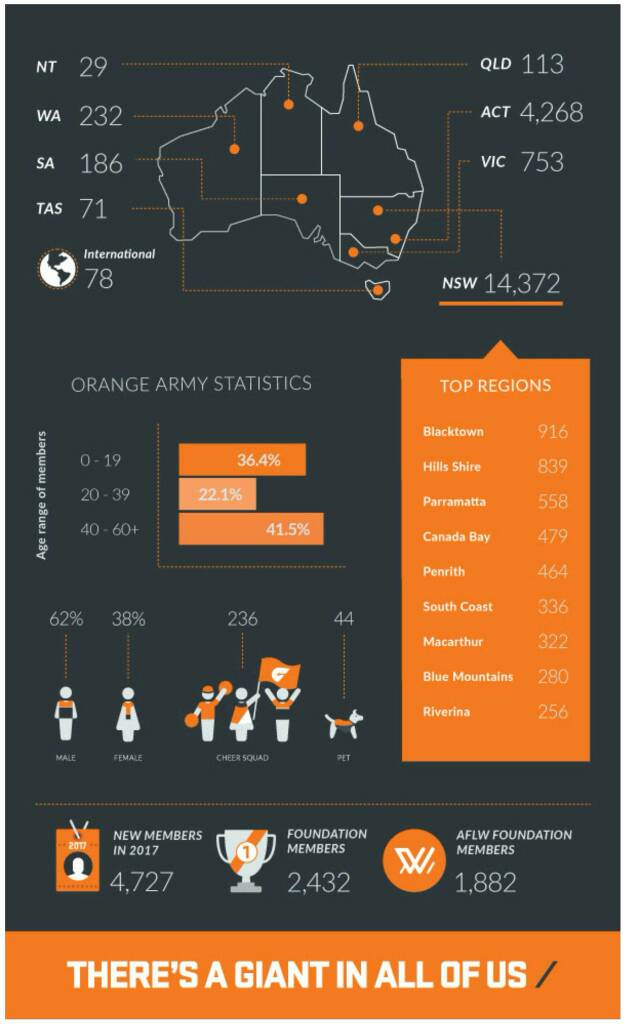 In 2018 GWS announced it had reaced 25,000 members and sent the following infographic to members.