AFL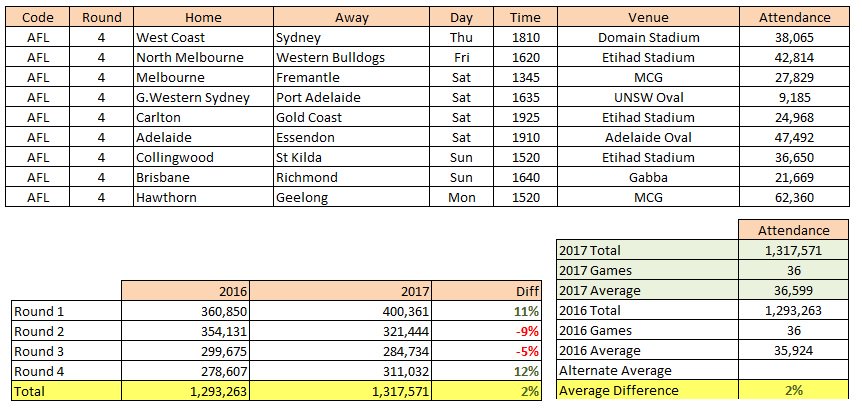 Thu STV: #AFL #FoxFooty #AFLEaglesSwans National: 357k (Metro: Syd 34k Mel 141k Bri 20k Ade 39k Per 55k)  7mate  180k (Sydney 42k Perth 138k)
Fri TV #AFL #aflnorthdogs Seven 482k (Mel 313k Ade 83k Per 86k) No 7mate yet, FoxFooty Metro 198k (Syd 17k Mel 118k Bri 10k Ade 21k Per 33k)
Sat TV – Melb v Freo (Per 95k, Reg 45k) STV – 213k
Sat TV – GWS v Port (Syd 32k Adel 110k) #FoxFooty  240k
Sat STV – Carl v Suns (Bris 39k) STV 128k
Sat TV – Adel v Ess (Mel 245k, Adel 164k, Reg 123k) STV – 169k
Sun TV – Coll v StK (Seven Metro 348k (Syd 17k Mel 199k Ade 64k Per 68k) Regional ) STV – National 151k Metro 111k (Syd 7k Mel 67k Bri 13k Ade 11k Per 13k)
Sun TV – Bris v Rich Metro (Bris 24k) Sun STV National 129k Metro 102k (Syd 7k Mel 62k Bri 7k Ade 11k Per 15k)
Mon TV – Haw v Geel (Syd 26k, Mel 310k, Bris 27k, Adel 84k, Per 95k) Mon STV – 276,000
Sat TV #VFL Seven Metro Mel 45k Regional Vic 16k
Cumulative Updates
AFL viewership up 11% on metro (ave 292k), down -0.14% on Fox (ave 194k), total up 3%.
AFL metro viewing – Melb 301k ave (+10%), Bris 32k ave (+25%), Adel 113k ave (+17%). Syd 25k ave (-23%), Per 91k ave (-10%)
AFL Fox Viewing averages – Melb 98k, Syd 23k, Bris 16k, Adel 25k, per 33k, metro 189k, reg 50k. (note data only available for 25% of games)
NRL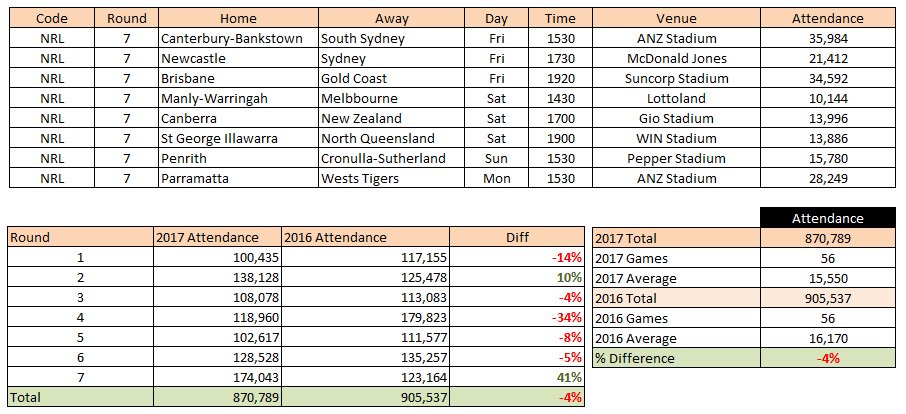 Cumulative updates
NRL viewership down 5% – metro down 9% (ave 401k), Reg down 10% (262k) Fox down -0.35%. AU viewing down 5%. NZ not known.
NRL metro viewing – Syd 215k ave (-16%), Bris 180k ave (+24%). Not enough city specific data for Melb, Adel, Per.
NRL Fox viewing – Syd 89k ave, Melb 13k ave, Bris 46k ave, Adel 2k ave, Per 6k ave. Metro 153k ave, Reg 83k ave. Total 236k ave.
A-league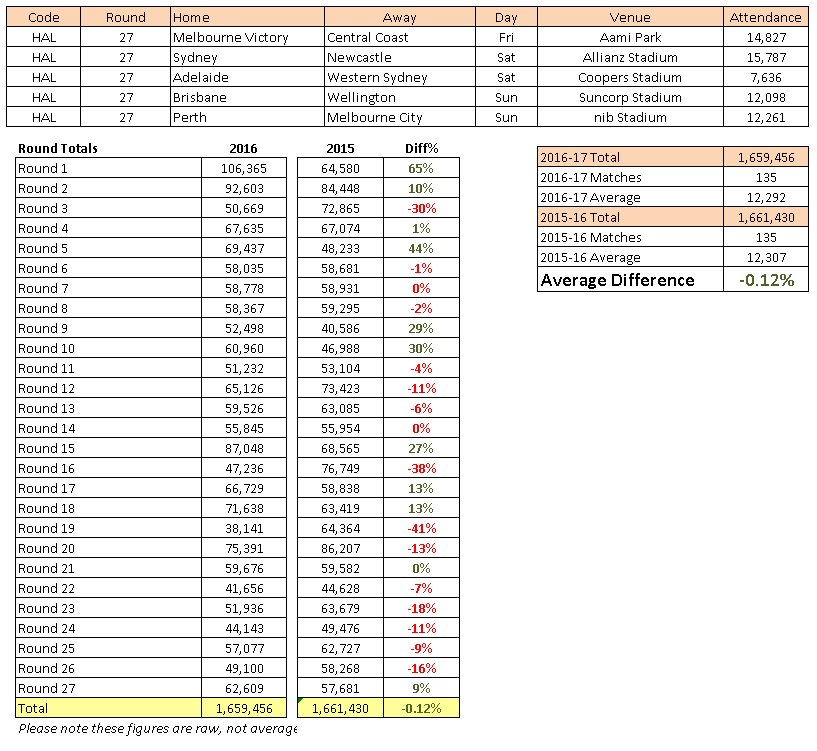 Cumulative Updates
The A-league 2016-17 H&A Season on Fox has finished up 11% to 8.545 million at an average of 64,000 per game.
Highest rating A-league matches – #1 R1 Syd/WS derby 142k. #2 R2 – Vic v City 132k #3 R1 – Roar v City 129k. (Rec 188k Syd derby R2 2014-15)
2016-17 HAL Fri night metro FTA ave up 18% to 64k (1/3rd of friday nights no FTA rating reported). Roar v Victory R1 top with 118k.
Super Rugby