The Federal Budget 2023-2024: Whats in it for your sport?
Well the Budget was delivered last night and its great news for Tasmania  And Queensland with 305m in funding allocated for the development of Macquarie Point and UTAS Stadiums in preparation for their AFL licenses, and 3.4 billion allocated for Queensland Olympic venues. You can find the full budget here.
The Government will provide $687.4 million over 6 years from 2022–23 for a national approach to sustainable urban development in Australia.
Funding includes: $305.0 million over 5 years from 2023–24 for the Macquarie Point Precinct and University of Tasmania Stadium, to deliver urban renewal projects in Hobart and Launceston (pg 176)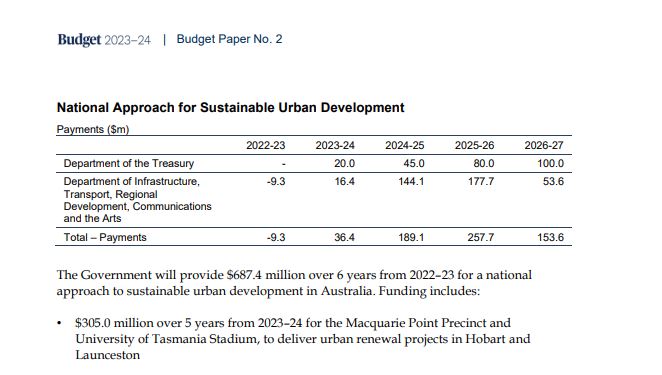 The Government will provide up to $3.4 billion over 10 years from 2023–24 to support venue infrastructure for the 2032 Brisbane Olympic and Paralympic Games.
Funding includes:
a capped investment of up to $2.5 billion for the development of Brisbane Arena
a capped investment of up to $935.0 million investment towards 16 new or upgraded venues as part of the Minor Venues Program.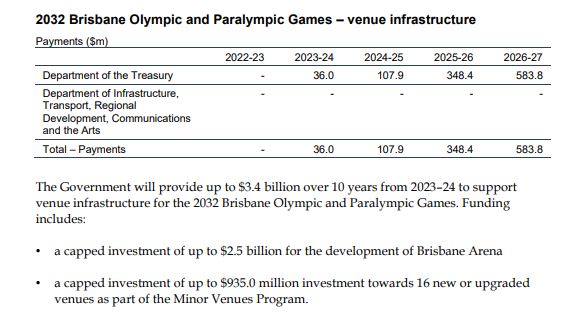 The Government will provide $39.8 million over 7 years from 2023–24 to support major sporting events, sports diplomacy, and sport and physical activity in Australia. (pg 137)
$0.2 million in 2023–24 to support development of the Government's Major Sporting Events Strategic Investment Model to better quantify the broader social and economic impacts of major sporting events.
$0.8 million in 2023–24 to develop a new National Sport Plan and undertake a review of the Australian Sports Commission Act 1989
$1.6 million over 3 years from 2023–24 to Reclink Australia to expand sport and recreation programs for disadvantaged Australians in the Northern Territory and the Australian Capital Territory
$2.1m over two years from 2023–24 to the Department of Health and Aged Care and the Australian Sports Commission to support women and girls participation in talent and development programs to increase female representations in coaching, officiating and sports administration
$3.3 million over two years from 2023–24 to continue and expand The Big Issue's Community Street Soccer Program
$3.3 million in 2023–24 to continue Surf Life Saving Australia's vocational education and training support for Australia's surf lifesaving volunteers
$3.8 million in 2023–24 to the Australian Sports Foundation to enhance the organisation's information technology network to address emerging cyber security risks
$8.3 million in 2023–24 for the extension of the Local Sporting Champions program, which supports young Australians to participate in state, national and international sporting competitions
$16.3 million over 6 years from 2024–25 to support the Confederation of Australian Sport to host the World Masters Games 2029 in Perth, Western Australia, with funding subject to confirmation of a successful bid for Australia to host this event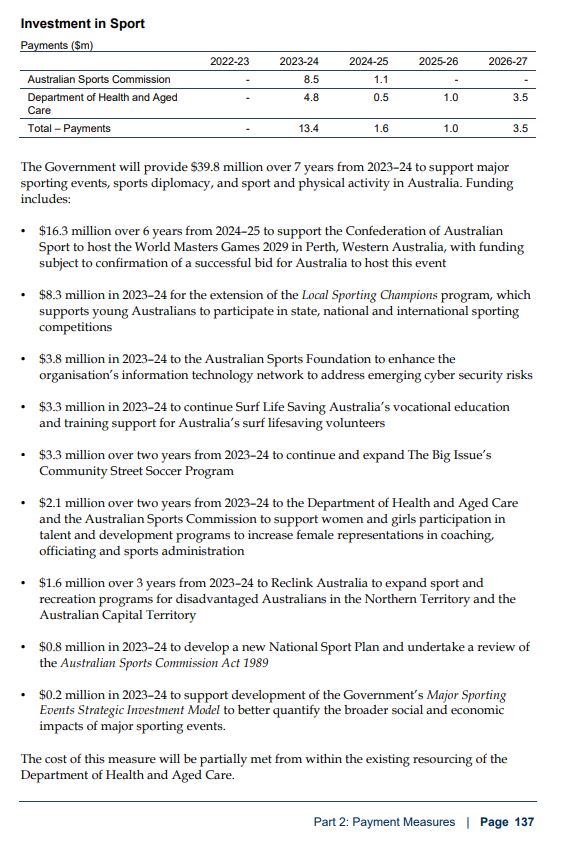 But the budget contained nothing for Victorias 2026 Commonwealth Games. The state will also have to convince Canberra to chip in for the 2026 Commonwealth Games – to be held in five regional towns – with federal Labor refusing to allocate any money for the $2.6 billion event in Tuesday's budget.